Technical Studies - Associate in Applied Science

TECH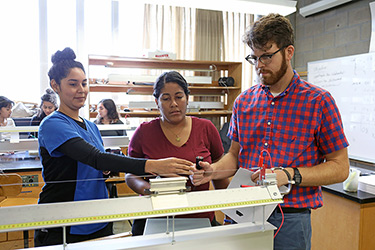 The Associate in Applied Science degree in Technical Studies (A.A.S.-T.S.) is designed for students who want to take technical and general courses for college credit to meet the training or retraining demands of current or prospective employers. This interdisciplinary degree program enables individual students or groups of employees associated with one employer to tailor technical programs to their own specific needs. Courses are selected on the basis of a student's interests, goals and abilities. Each student's program is individually designed. As the two examples point out, the A.A.S.-T.S. degree is designed to be flexible and interdisciplinary. Because of the variety offered in this degree program, the number of credits required for graduation could vary from 60 to 66.
Anyone interested in earning an A.A.S.-T.S. degree should speak with an admissions officer. Qualified students are referred to the Dean of Business, Science, Technology, Engineering and Math to assess prior learning experiences. Procedures for the assessment of prior learning are outlined in the Credit for Prior Learning section of this catalog and on www.ccri.edu/priorlearning/. If qualified, a learning contract outlining course requirements leading to the A.A.S.-T.S. degree is developed.
Note: The learning contract is an official document filed in the student's permanent record. It can be changed only with the written approval of the Dean of Business, Science, Technology, Engineering and Math. Any approved changes in a student's program become part of the learning contract.
Program Requirements
In general, the program is divided into three parts.
Credit for Prior Learning (Not More Than 20 Credits)
Any occupational or technical training for which prior learning credit is sought must be relevant to a student's education and career goals. This includes apprenticeship, union activities, military training, etc. Awarded credit is based on:
Technical and Related Courses
A student will take 20 credits in technical and related courses. If he or she has insufficient prior experience to receive an award of the full 20 credits of prior learning experience, the student will take additional technical and related courses so that the degree equals no less than 60 credits.
Requirements
General Education
At least 20 general education credits that meet the requirements of the General Education policy. Students must take an English composition course (e.g., ENGL 1010 or ENGL 2100), courses that allow students to demonstrate satisfactory performance in the four abilities in the Definition of the Educated Person, and are distributed across three domains of knowledge and will include a minimum of six credits from each of any two domains and three credits from the remaining domain: Humanities (HUMN), Math and Science (MSCI), and Social Sciences (SSCI). See this page for a complete listing of courses that meet these requirements.
Example 1
In this example, an individual completes an evaluated apprenticeship program to be an electrician, has an interest in system modeling, automation, digital systems or networking. This individual wants to stay local. A program that might give this individual mobility within the job market might look like the one below. This schedule is meant as an example only.
Course List
Code
Title
Hours

General Education Requirements

ENGL 2100
Technical Writing
3
COMM 1010
Communication Fundamentals
3
MATH 1240
Statistical Analysis I
3
PHYS 1000
Physics of Everyday Life
4
PSYC 2010
General Psychology
4
SOCS 1010
General Sociology
3

Subtotal

20

Approved Apprenticeship

Complete an approved apprenticeship

20

Subtotal

20

Technical Courses

ENGR 1020
Introduction to Engineering & Technology
3
ENGR 1030
Engineering Graphics
3
ETEE 1050
Introduction to Electromechanical Systems
3
ETEE 1800
Introduction to Digital Systems
3
CNVT 1810
Networking 1
3
ETME 1010
Robotics and Control
3
INST 1010
Introduction to Instrumentation Technology
3

Subtotal

21
Total Hours
61
Example 2
In this case, an individual may have completed a credit-worthy organized training program, yet new developments in his or her field indicate that he or she will need more formal business-related education. A degree program for this student might look like the one below. This schedule is meant as an example only.
Course List
Code
Title
Hours

General Educaton Requirements

ENGL 1010
Composition I (or ENGL 1010A)
3
COMM 1010
Communication Fundamentals
3
MATH 2077
Quantitative Business Analysis I
3
CHEM 1000
Chemistry of Our Environment
4

Select one of the following:

3
Principles of Microeconomics
Principles of Macroeconomics
PSYC 1030
Psychology of Personal Adjustment
3
SOCS 1010
General Sociology
3

Subtotal

22

Approved Apprenticeship

Complete an approved apprenticeship

18

Subtotal

18

Technical and Related Courses

BUSN 1010
Introduction to Business
3
BUSN 2050
Principles of Management
3
BUSN 2060
Principles of Marketing
3
ACCT 1010
Financial Accounting
4
ACCT 1020
Managerial Accounting
4
LAWS 2050
Law of Contracts
3

Subtotal

20
Total Hours
60