Computer Studies and Information Processing
In response to the impact of computer technology on communications and industry, CCRI offers various degree and certificate programs through the Computer Studies and Information Processing Department.
Associate in Science (A.S.) Degree Programs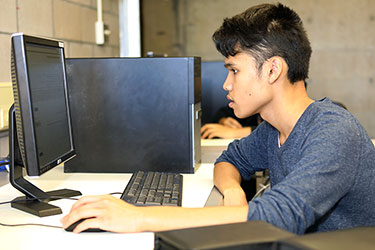 Computer and Information Processing Concentrations will prepare students for careers in Cloud Computing and Networking Technology, Computer Programming, Computer Support Specialist, General Information Processing, Networking Technology, and Web Technologies.
Cybersecurity is one of the fastest-growing, high-demand fields of information technology and the workplace in general. This degree program offers students the opportunity to acquire the skills needed to compete for these jobs and to prepare for a career in cybersecurity. The program will also provide a strong foundation for students intending to pursue a bachelor's degree in the field as well as an opportunity for industry professionals to update their skills to meet the demands of their employers.
Certificate Programs
Computer Programming, General Information Processing, Computer Support Technician, Network Support Technician, Data Analytics, Network Software, Web Technologies, Cyber Defense, Networking Technician, and Software Development.