General Studies - Associate in Arts
GENS
The General Studies degree provides students with the flexibility to build a broad-based major in the liberal arts and sciences. Graduates will be able to communicate effectively, think critically, reason quantitatively, and draw on knowledge from many disciplines to understand themselves and the world. The General Studies degree is designed for students who desire to transfer to a four-year institution.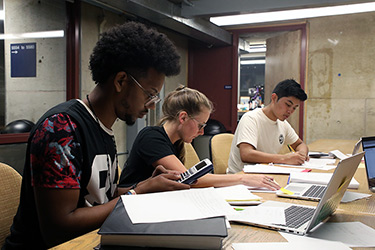 Note: Courses may require prerequisites, corequisites and/or testing. See course descriptions for details.
Available Online: Students are able to meet program requirements with online courses. See https://www.ccri.edu/distance/ for more information about online programs, the courses available online, and ways to be a successful online student.
Requirements
1

Those required to take College Writing (ENGL 1005) will then have to take Composition I (ENGL 1010). (College Writing (ENGL 1005) may be used as elective credit.)

2

In selecting specific courses, students planning to transfer should consult a CCRI adviser and/or a transfer adviser at the college or university to which they plan to transfer.
Science Options
1

Both required
 Total Program Credits: 61-63
1
1

63 total program credits if Science credits equal 5 and General Education Elective credits equal 4.
Transfer
If you are interested in earning a bachelor's degree, please meet with an Academic Advisor who can help you select the courses that best prepare you for transfer to a four-year college or university.
If you are interested in transferring to Rhode Island College or the University of Rhode Island, check out the Joint Admissions Agreement. CCRI also has Transfer Articulation Agreements with colleges and universities throughout New England.